In her latest book, Joan Easton Lentz outlines an idyllic childhood growing up in Santa Barbara, and her early passion for observing birds. Through her nature journals, the reader is right beside Lentz, sharing her thrill at many a discovery. Learn about the great variety of birds in our region, the spectacle of bird migration offshore, and the challenges and fun of watching it all, as told through the eyes of an author who invites you to accompany her on an intimate life's journey. Find out more.
---
A Naturalist's Guide to the Santa Barbara Region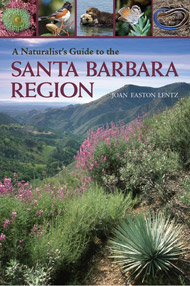 This first-ever comprehensive nature guide to the region contains over 400 color photographs and illustrations, maps and charts, a species list, and sample field trips to entice the reader on a journey from tidepools to mountain peaks.
The Santa Barbara region – including San Luis Obispo, Santa Barbara, and Ventura counties – contains an extraordinary variety of plants and animals. Due to its Mediterranean climate and location along the California coast, our area is home to unique species found nowhere else. This book tells you what they are and where to find them.
Published by Heyday, 2013. 485 pages.
---
Introduction to Birds of the Southern California Coast
This easy-to-use, concise, informative guide is a must for anyone who wants to leave behind Southern California's noisy freeways and crowded beaches in search of the wild places where birds can be found. An excellent introduction, an indispensable regional guide, and a perfect companion for excursions from San Luis Obispo County to the Mexican border, it is designed to familiarize birdwatchers, hikers, naturalists, residents, and travelers with the appearance and behavior of 120 of the most common coastal birds.
Published by University of California Press, 2006. 316 pages.
---
Great Birding Trips of the West
Currently out of print, but available on Amazon.
Every birder is a traveler at heart, and here is the perfect "travel guide" for chasing rarities in the West's most scenic birdwatching "hot spots". Covers nine major habitats from Washington to Colorado and offers crucial information, area trail maps and checklists.
Published by Capra Press, 1989. 281 pages.
Birdwatching: A Guide for Beginners
Currently out of print, but available on Amazon.
By Joan Easton Lentz and Judith Young.
Birdwatching is written for the beginner. Informative, entertaining, and thoroughly illustrated, the book walks you step-by-step through the field, clearly teaching the secrets of how to identifiy birds — tricks experienced birders have known for generations but have never written down before.
Published by Capra Press, 1985. 178 pages.